For over fifty-five million years, humankind and our earliest ancestors have roamed the planet in search of one thing – FOOD.


We're still at it. Food is both the world's single largest industry and critical to our survival. Not surprising then, that from Amsterdam to Zagreb and everywhere in between, food tours are the smart new way to explore a city, check out the culinary highlights, and meet a group of like-minded people who are interested in food, community and local history. And then, of course, there's the FOOD itself!


Long-term resident of Kingston, Heather Ford, and her business partner son, Daniel Barrett, launched Kingston Food Tours in June 2016. "Our emphasis is on local and artisanal," says Daniel. "One of our primary goals is to expose Kingstonians and visitors alike, to local personalities, chefs and restaurants that share our passion for supporting community, and sourcing locally wherever possible."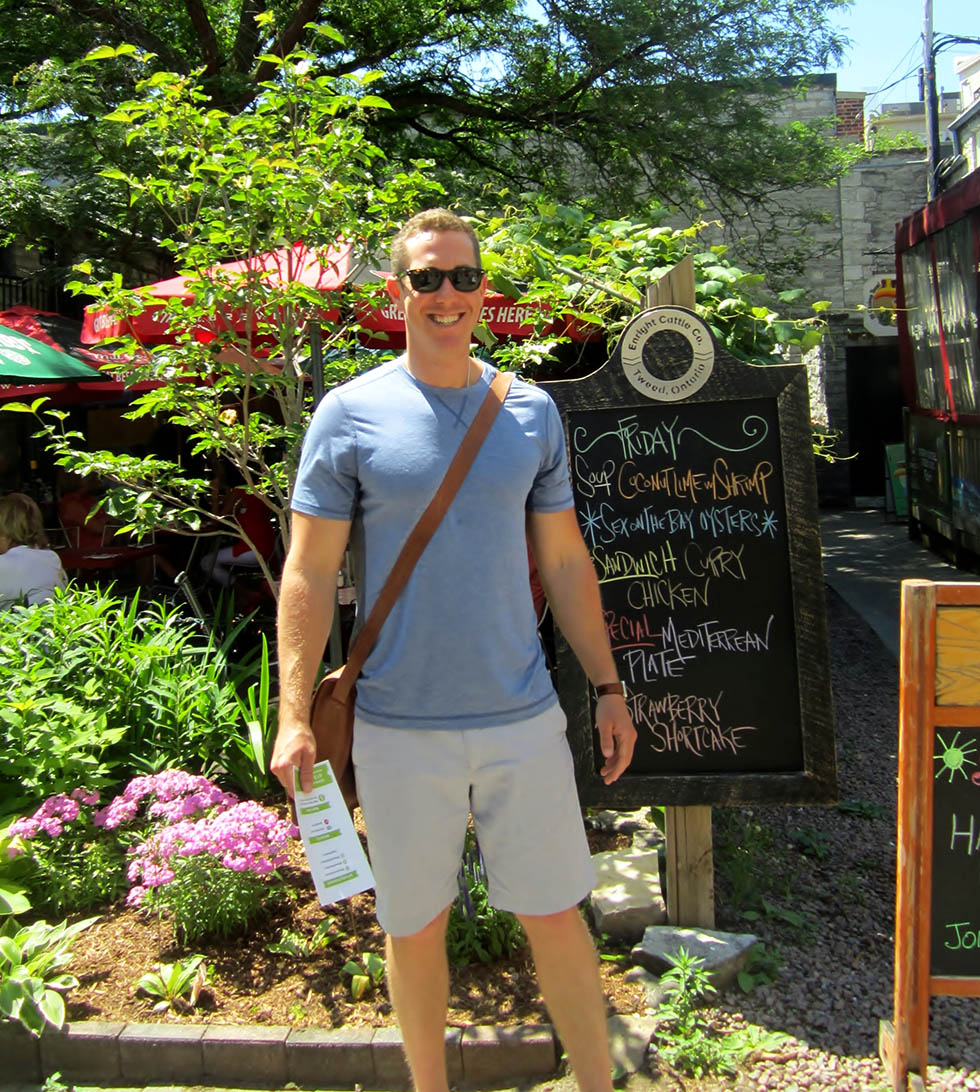 I meet my tour in Confederation Park, where owner and tour guide Daniel introduces group members and establishes an easy rapport. We're a small crowd, including a young couple from Germany who "do food tours in every city they visit," and a pair of knowledgeable and enthusiastic food lovers from Toronto. Daniel tells us what's in store for the next couple of hours as we head out walking and eating our way through Kingston's historic downtown.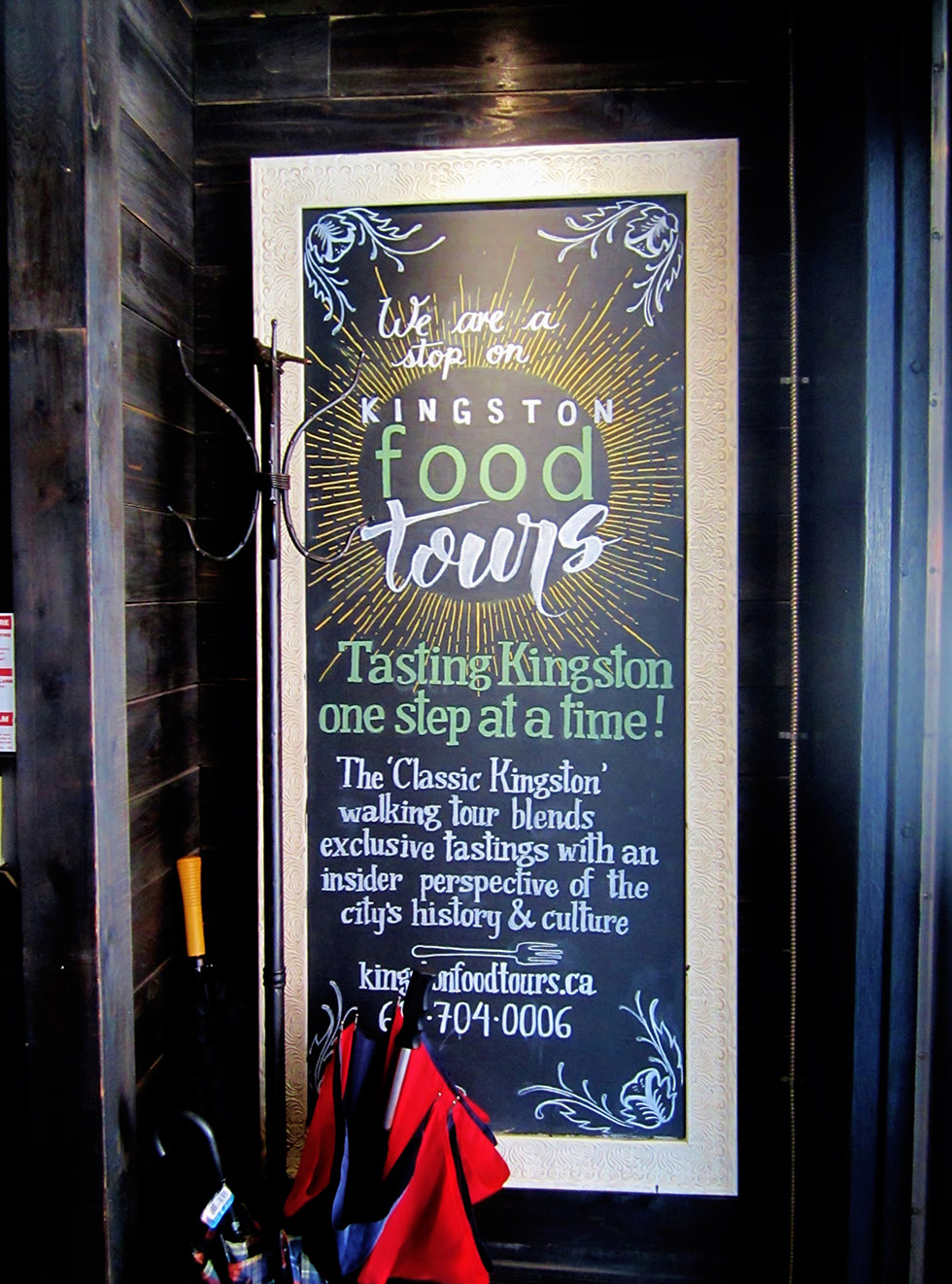 Our first stop is Dianne's Fish Snack and Smoke House – a beautifully renovated, classic old limestone building. The menu is inspired by the owners' east coast heritage combined with their love of Mexican cuisine. We tuck into a fantastically tasty beer battered (and sustainably caught) Baja fish taco topped with pico de gallo, avocado-tomatillo crema, and pickled red onions on a corn tortilla and wash it down with a perfect margarita. I make a mental note to myself to come back and have the exact same combination again, another time.


As we set off for our next stop, Daniel fills us in on lots of local history and even though I've lived in this city since 2001 and take an avid interest in both its history and the food scene, I'm delighted to learn plenty of interesting, new information.


For the next couple of hours, we explore the city with our palates. Every stop offers a little something different. We are ushered into private spaces like the bread oven kitchen at Pan Chancho, where we sample fresh bread, cheese, and maple chomeur. Next up, we're perched at the bar in Atomica, eating a delicate thin-crust pizza with arugula and pine nuts and drinking Red Fox, a local beer brewed by MacKinnon Brothers Brewing on their 200 year old family farm. From there we're off to Olivea to sample a rich slow-cooked beef cheek ragu on homemade gnocchi. Then it's the stylish Tango Nuevo for Börek, a traditional Turkish pastry filled with feta, cheddar, and parsley, served with a robust olive tapenade.


The pace changes a little as we move on to visit a couple of specialty food stores including General Brock's Commissary for a Canadian history lesson along with samples of savoury shortbread and cheese, salami and specialty mustards; and the Kingston Olive Oil Company, for a flight of premium olive oil and balsamic vinegar samples.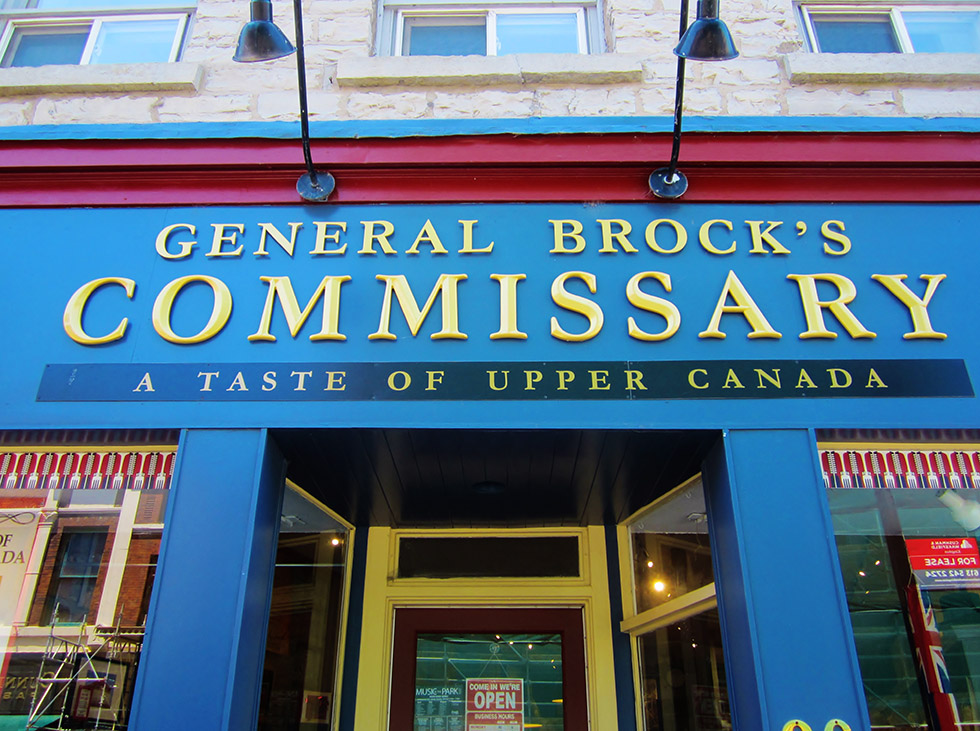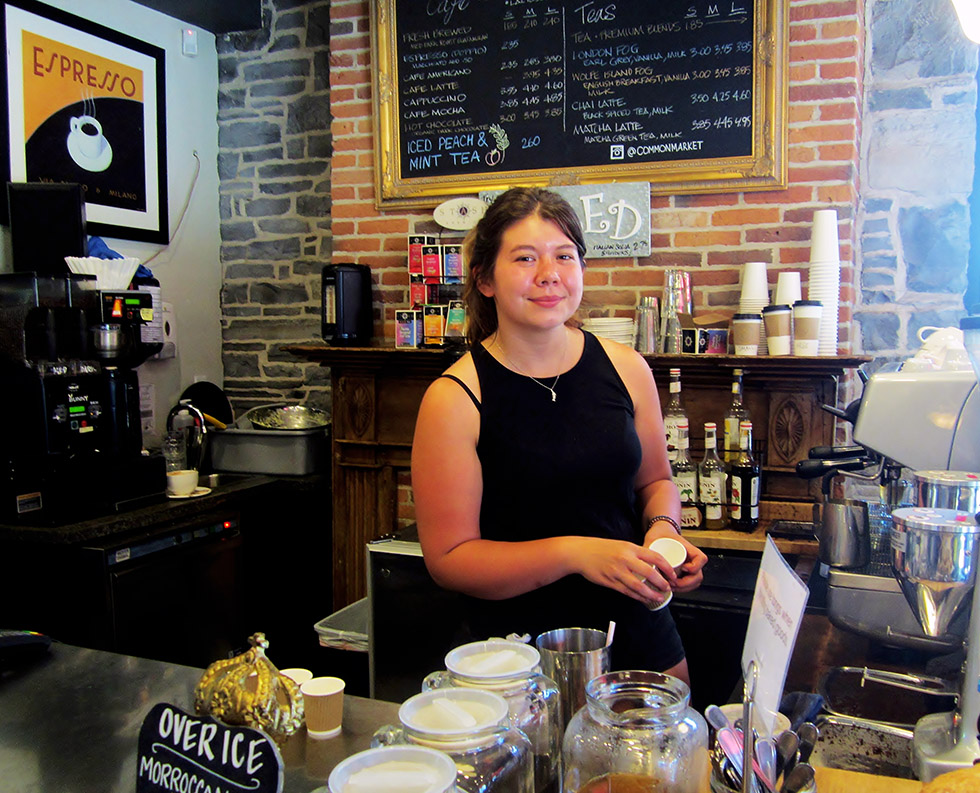 Our little group of strangers has bonded over food and stories and we part friends. That's the power of food. If you haven't already taken a food tour, it's time.


Book your first (or next) Kingston Food Tour today and get ready for a city full of flavour.


The delectable smells of fresh bread and pastries, gourmet entrées, desserts, and other delectable creations overwhelm your senses as you walk into Kingston's Pan Chancho Bakery and Café.


Although I have visited many a time, I keep returning because there is always something new to discover and to indulge in. Combined with ever-helpful and knowledgeable staff, I am immediately reminded of all the reasons why Kingston is one of the fastest growing tourism markets in the country.


As General Manager of Chez Piggy and Pan Chancho for over thirty years, Nick Waterfield had already been part of Chez Piggy Restaurant since its inception in 1979, when Canadian rock musician Zal Yanovsky opened the restaurant with his wife Rose Richardson. Since then, Nick has seen Pan Chancho established in 1984 and evolve from a small bakery originally at Johnson and King Streets into an unmistakable landmark in the downtown Kingston scene.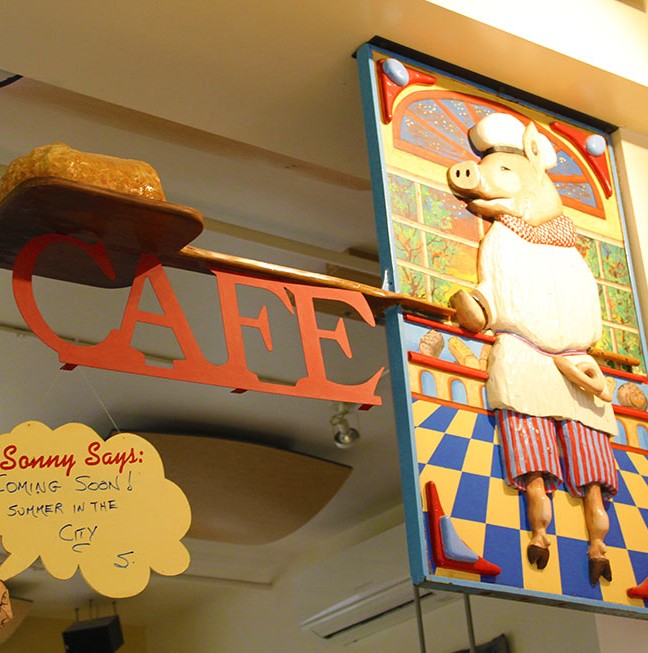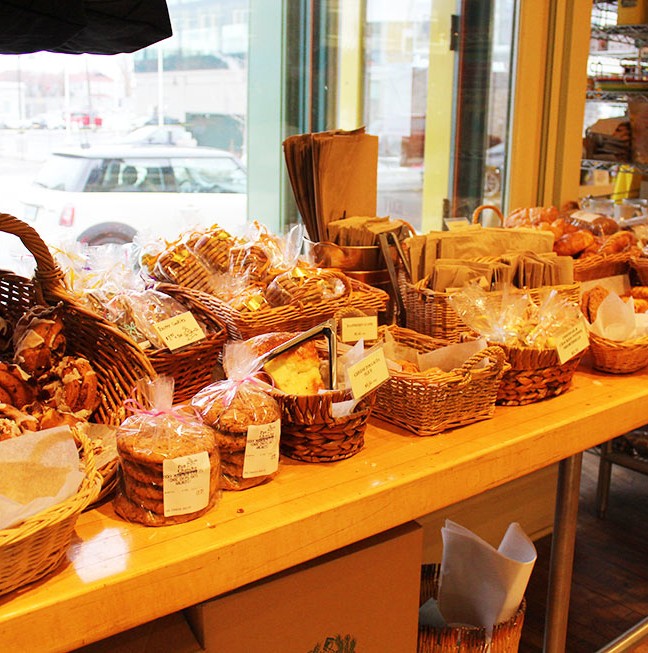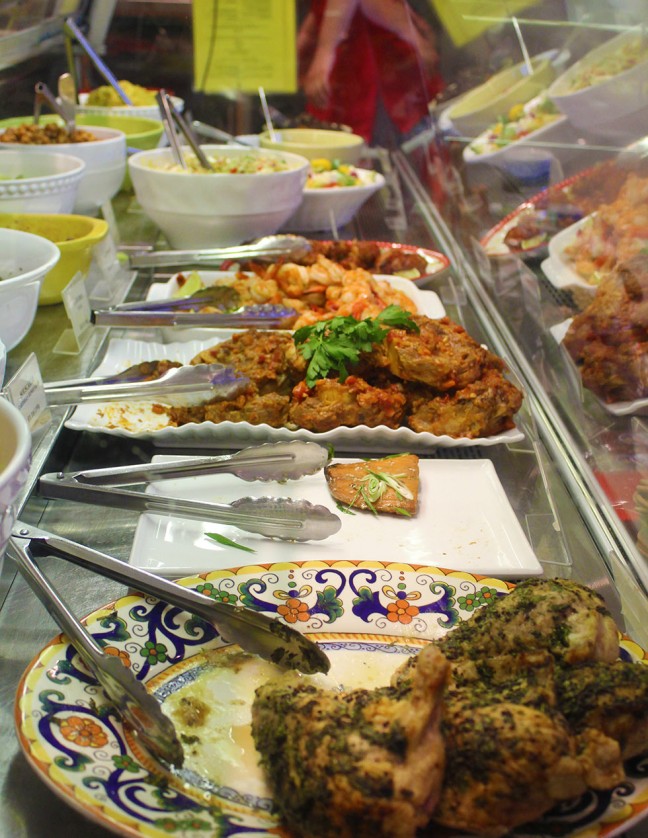 As Nick describes, "It's more than just a bakery. It's all about really good flavourful food. It's an artisan bakery, take-home lunches and dinners, locally sourced meats and dairy, frozen goods, sit down licensed café, a patio with live music once a week in the summer… it's a gathering place."


Though Nick could not pick a favourite ("I would recommend everything!" he says), popular items are the chocolate profiteroles, scones, and their delicious artisan breads. As it turns out, each staff member has a "must-have" item as well, further emphasizing Pan Chancho's appeal to any kind of taste buds. When I spoke with Nick just before the Easter long weekend, hot cross buns, chocolate salted shortbread, cupcakes and other sweets were the highly sought after items. Pan Chancho changes their menus seasonally and also adds items based on customer recommendations, including the recent addition of gluten-free goodies. In fact, it is difficult to phase out any menu item as customers stay loyal and true to their favourites and will make a point to ask for them back!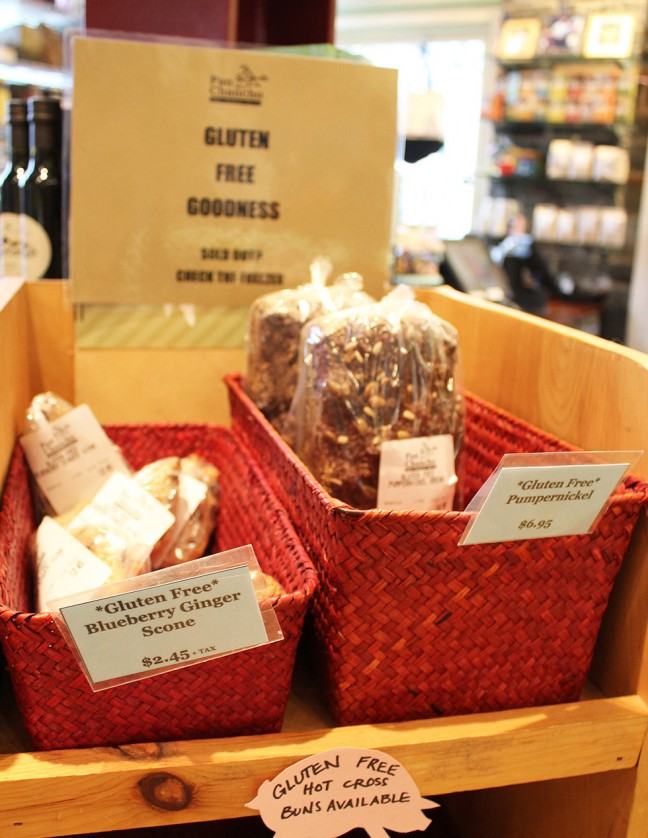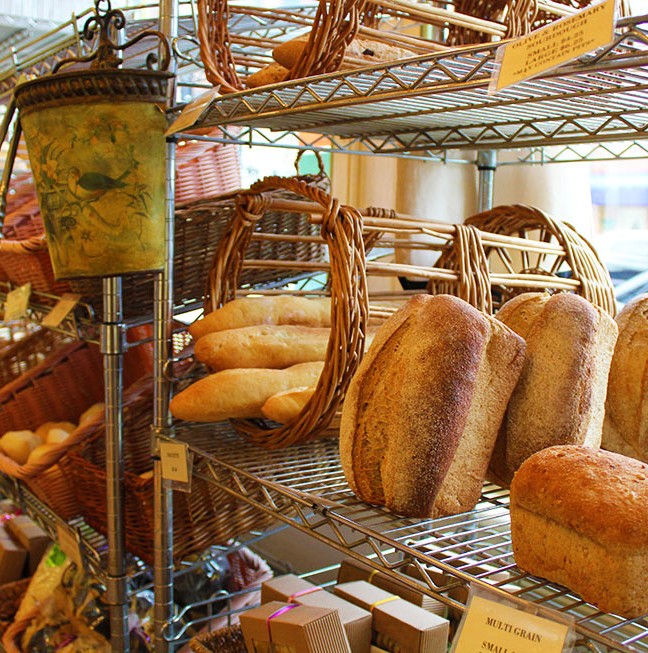 At Pan Chancho, there's something for everyone: grab a dinner-to-go after a busy day, linger over breakfast with friends on a Saturday, or pick up a box of delectable pastries as a treat for your family (or maybe just yourself). If you're looking for local products, you can browse selections from a variety of local producers, including Limestone Creamery,Seed to Sausage and Lyon's Family Farms. For cheese-lovers, Pan Chancho sources Prince Edward County producers for certain cheeses (with over 100 kinds of cheeses in total), and other Canadian sources promoting healthy and organic choices.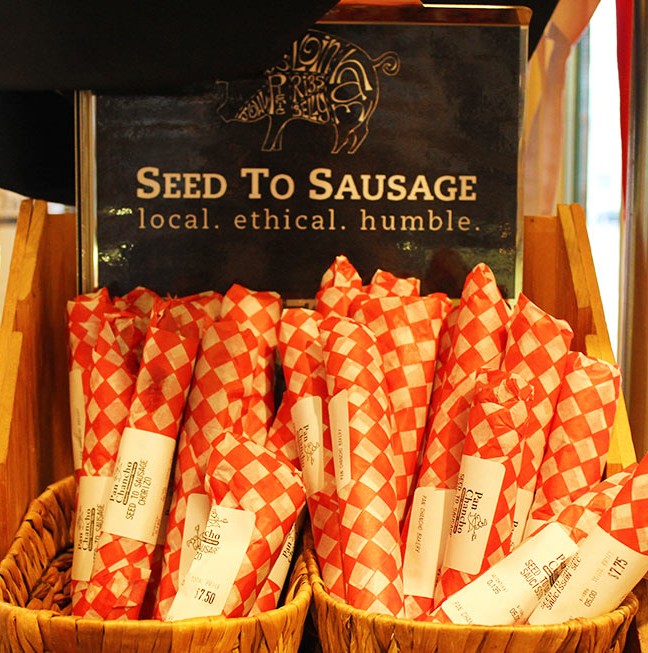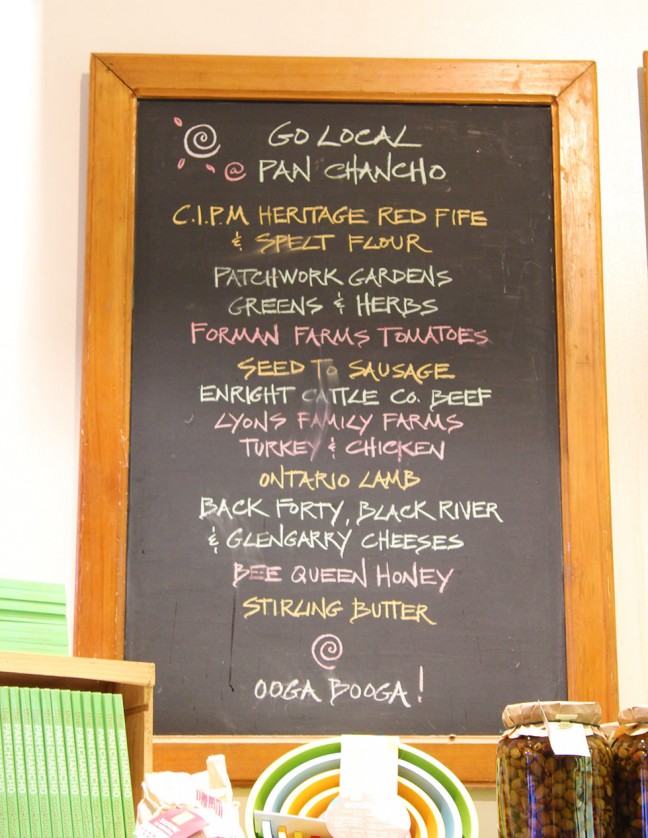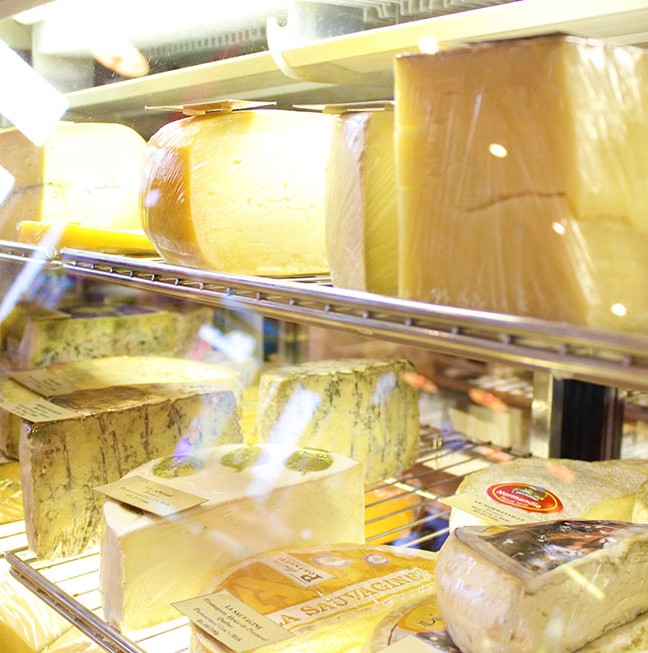 As if a full-time café and bakery wasn't enough, Pan Chancho also offers a renowned catering service for office or business functions as well as a private dining room for more intimate celebrations. Despite thousands of people passing through their doors each day, Pan Chancho maintains their trademark high quality, by what Nick described as a focus on good customer service, an eye for detail, and of course, good food.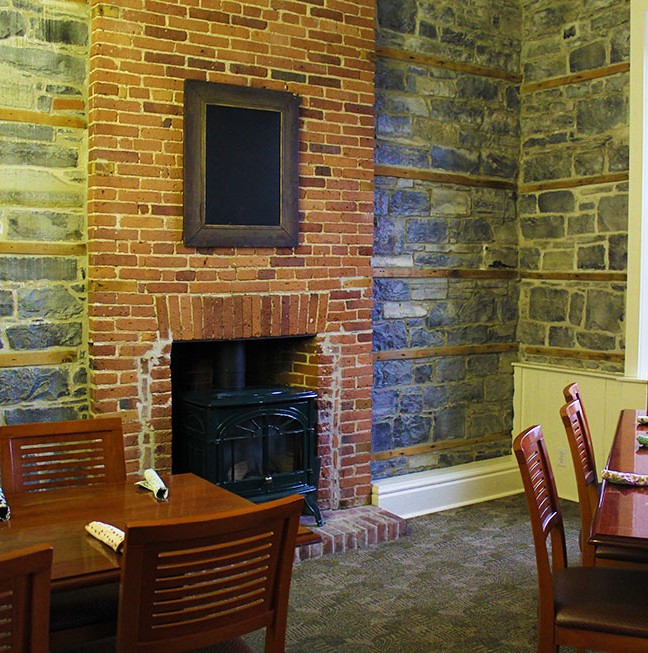 This year, Pan Chancho celebrates 20 years of serving not only the local Kingston community, but also visitors from around the world. Pan Chancho's fame has only grown and Nick attributes that to its family values – it is an intergenerational legacy with a number of children of staff working there as well.


Pan Chancho has certainly carved out its own place and identity in downtown Kingston, staying true to the intent and vision of Zal and Rose, who are arguably two pioneers of Kingston's vibrant downtown community with their desire to highlight local ingredients and products.


As summer approaches, Pan Chancho, both inside and outside on the patio is sure to fill up quickly – be sure to beat the crowd to get the best selection of offerings!


Fun Facts:
It takes about seventy-five individuals to keep the café and bakery running.
Pan Chancho's name is commonly misunderstood (and mispronounced) – instead of naming it "Chez Piggy Bakery," Rose, one of the original owners, thought up something unique; pan chancho means "Bread Pig" in an obscure Spanish dialect from Central America.
Cooke's Fine Foods has a "Chez Piggy" blend of coffee you can also purchase in-store.
---
The fall harvest is such a gorgeous time of year with its diverse colours spreading across the countryside, prompting Kingston's culinary scene to feature an enticing array of vibrant mouth-watering offerings to match. With many of Kingston's creative culinarians layering ingredients from local farms and producers into their menus, a wide selection of seasonal items guarantee a smorgasbord of tasty delights will be discovered throughout the city. Let's dig in and see what some of Kingston's finest restaurants and chefs have cooking this fall.


Kimchi Tofu Stew + Lamb Confit Poutine at Chez Piggy
68 Princess Street, Kingston
Chez Piggy, which celebrated its 40th birthday this year, is well known for its love of world flavours, as well as their ardent support for fresh local produce, meats, and sustainably-sourced fish.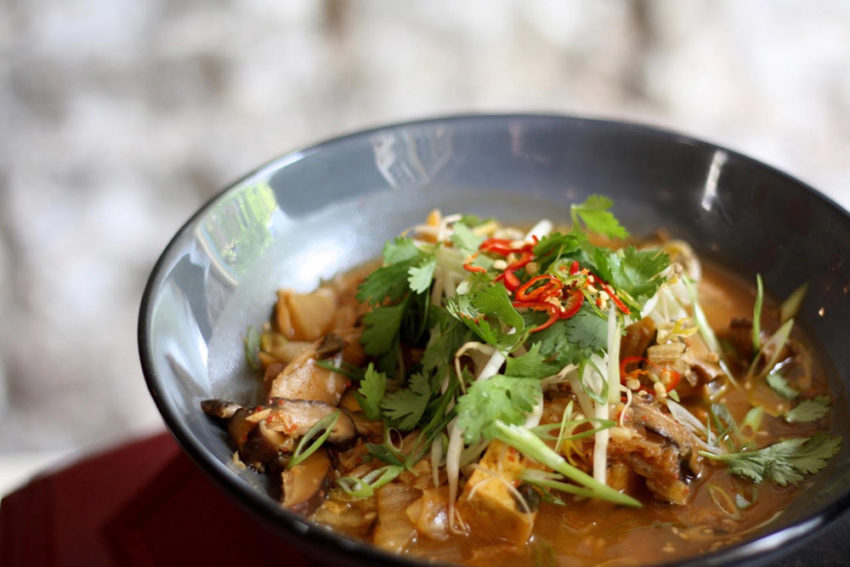 Their fall/winter menu—one of two seasonal menu flips from head chef Richard Nicholas—promises late stone-fruits, squashes and cellared root vegetables (think carrots, onions and potatoes), expertly paired with a range of proteins. Expect earthier, smokey, sweet flavours and scents throughout the fall and winter.


Seasonal mainstays like their Kimchi Tofu Stew (fried tofu, shitake and kombucha dash, kimchi, bean sprouts, daikon-gochugaru, scallions and cilantro), or Levantine Lamb (kefta spiced lamb chops with harissa chickpeas, baby kale, sumac and mint yogurt, and pomegranate molasses) are prime examples of their fall delicacies.


New menu features for this season include a hearty lamb confit poutine with lamb demi, nabulsi, pomegranate seeds/molasses, with minted yogurt and coriander, plus a Muscovy duck leg confit with roast herbed celeriac wedges, spinach and chevre purée with red peppercorn duck demi-glace.


69 Brock Street, Kingston
Le Chien Noir is the energetic, comfortable little French bistro located just steps from the historic Market Square. Popular for their mixture of French classics and irresistible farm-to-table comfort foods—made with fresh, locally-sourced ingredients—their fall menu is sure to be irresistible. Keep your eyes out for weekly promotions, including Cocktail Hour, a main feature beginning this fall. New on the menu is the heavenly House Pumpkin Gnocchi with walnut cream, 'Kelly's' roasted shiitake and oyster mushrooms, baby kale, radicchio with broiled gruyere and toasted hazelnuts.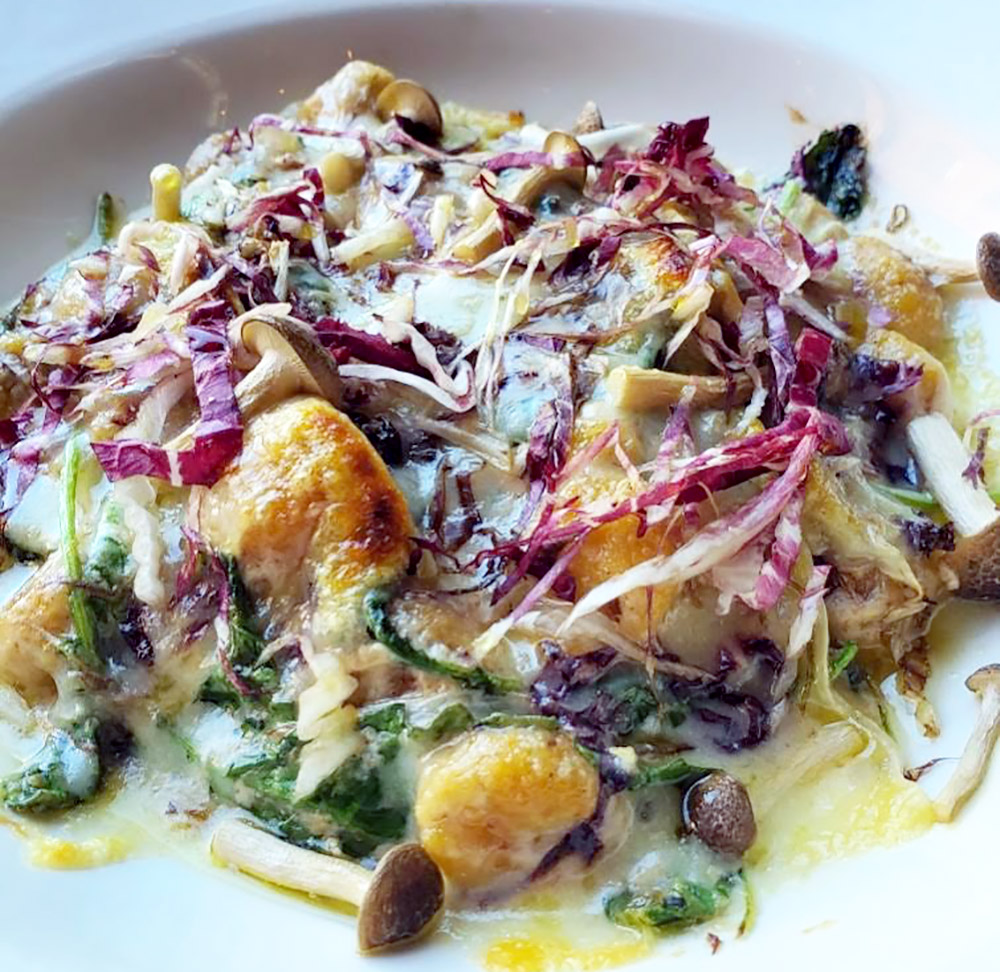 Seasonal Pot Roast at AquaTerra
1 Johnson St, Kingston
Led by Executive Chef Brent McAllister, AquaTerra is conveniently located downtown along Kingston's waterfront and boasts a commanding view of the Confederation Basin Marina with its historical Shoal Tower. Known for their routine menu updates and Chef's Test Kitchen Menu, AquaTerra is one of Kingston's go-to destinations for sampling new culinary creations.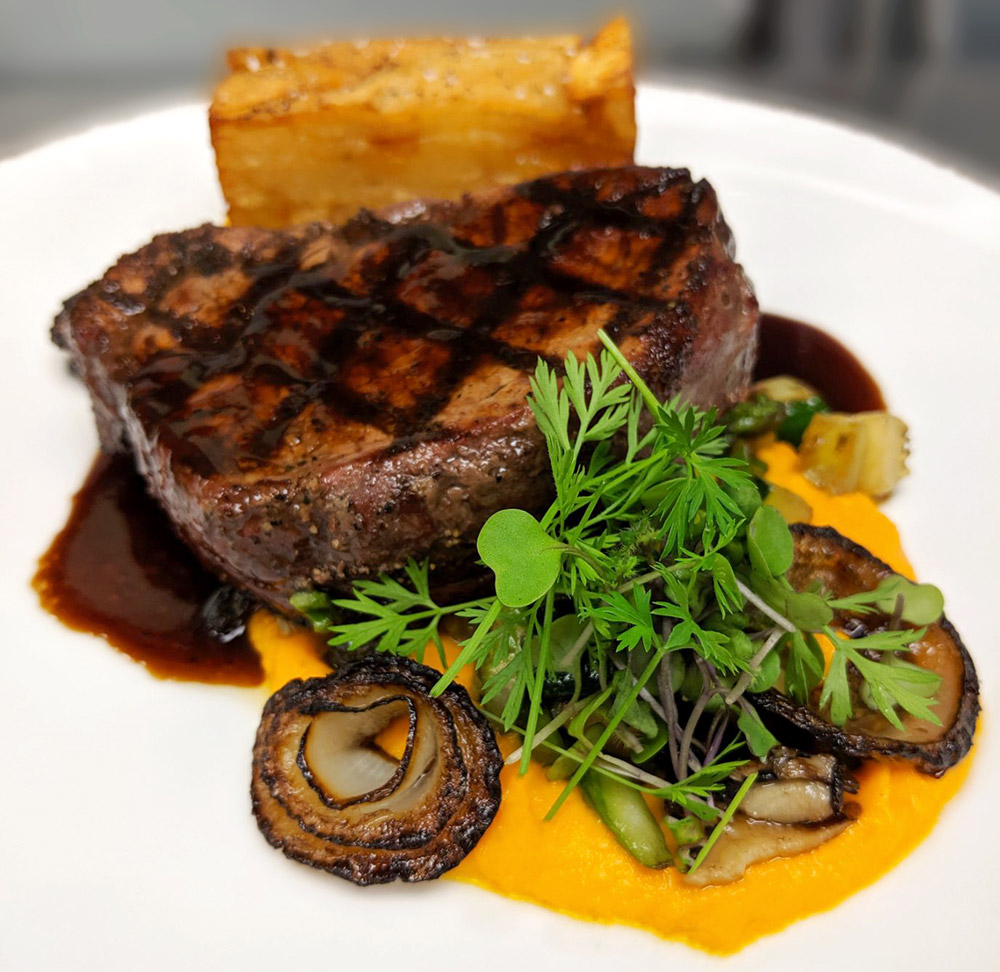 Fall's arrival shines a spotlight on the freshest local seasonal ingredients, as well as the popular Meet the Maker Wine Dinner event on Friday, November 15 with Grange of Prince Edward Estates Winery. The new fall menu is sure to impress, with recent additions like a heart-warming Pot Roast featuring Otter Creekwagyu sous vide round cut, paired with Mill Creek peas, Honey Wagon potatoes, and local mushrooms from Wolfe Island. Plus, their Ontario beef tenderloin with braised vegetable melange, carrot purée, potato pave, cippolini and merlot demi-glace is a regular fall menu favourite.


Braised Short Rib Risotto at Union Kitchen + Cocktails
184 Princess Street, Kingston
One of Kingston's newest culinary destinations is Union Kitchen + Cocktails, where the talented team creates hand-crafted cocktails and gourmet meals from high quality local ingredients. Perfected just in time for the fall menu season is their braised short rib risotto: braised and shredded local short rib with cremini mushroom, Woolwich chevre, herb oil, and garnished with local micro sprouts and herbs.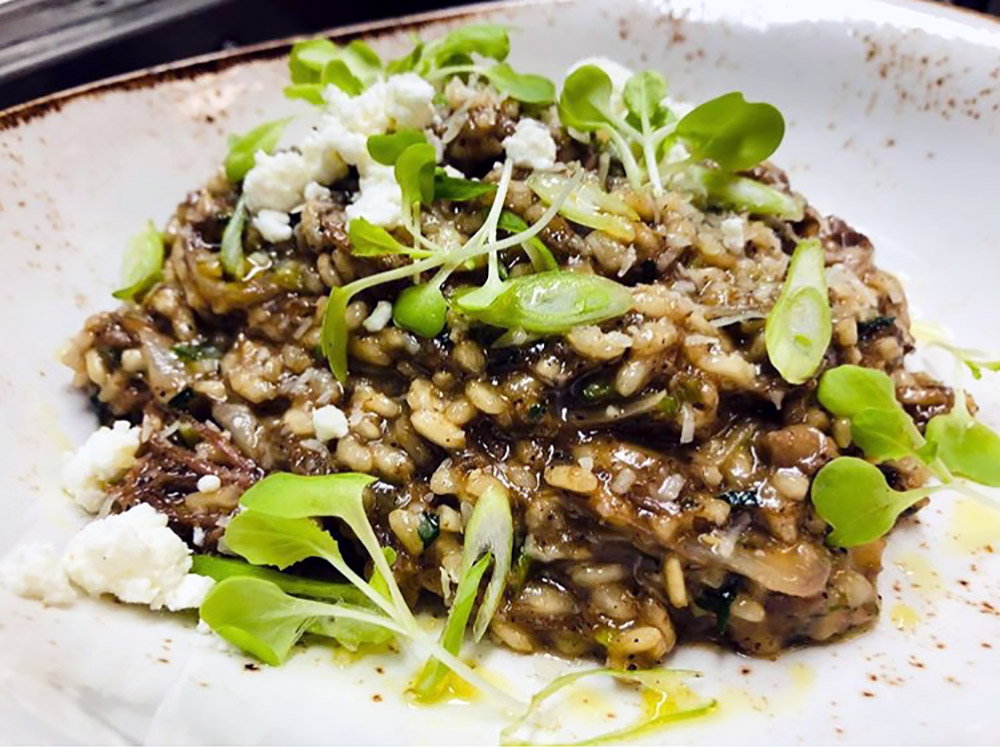 Fall Features at Kingston Food Tours
If you're feeling peckish, adventurous, and have your walking shoes handy, then consider taking a Kingston Food Tour. You'll get a healthy dose of fresh air, history, and no shortage of seasonal eats at some of Kingston's best eateries. Besides their signature Beer and Bites and Classic Kingston tours, be sure to check out their Wolfe Island: Farm to Table Dinner and Tour which is sure to tickle your taste buds in all the right ways.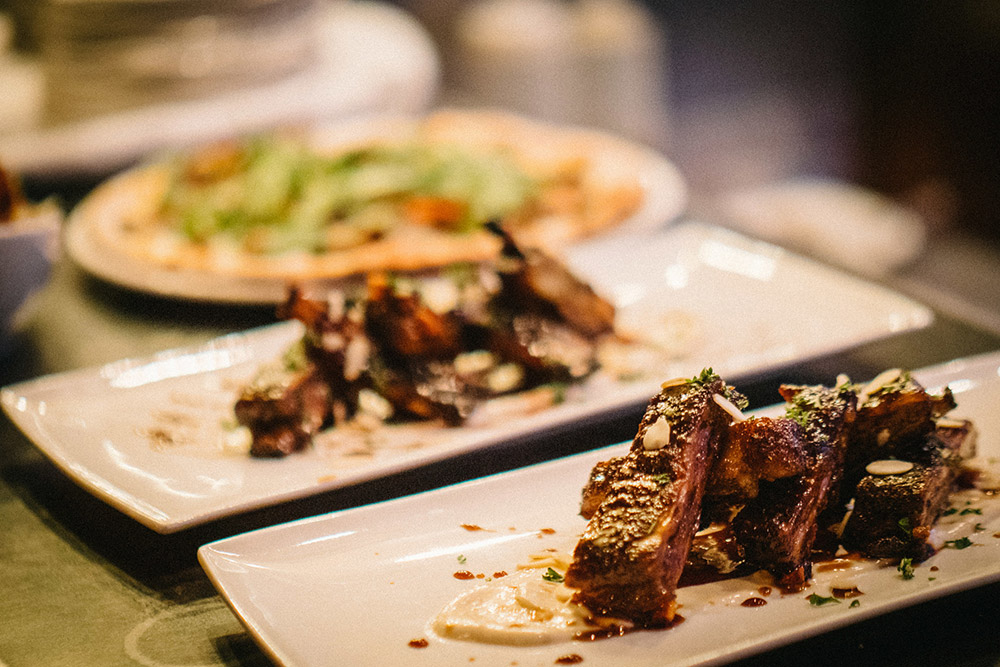 Any time of year presents a great opportunity to take in the sights, sounds, and tastes of Kingston—But with a shared passion for fresh local ingredients, fall is certainly one of the best times to experience Kingston's vibrant food scene. Book your stay today and come sample Kingston's seasonal offerings this Fall — just make sure your belt has a few extra notches when you arrive (wink, wink).
---