Your Guide to the 2020 Tim Horton's Brier in Kingston
It's been over 50 years since Kingston last hosted the world's most famous national curling championship, but now the Brier is back and it should be one of the biggest parties in the city in recent memory. Over 100,000 people are expected at the week-long bonspiel, which takes place from February 29th to March 8th. Here's everything you need to know to get ready.
The Basics
All of the action happens downtown at the Leon's Centre, where sixteen men's teams representing every province and territory — and Canada itself — will compete for the 2020 Tim Hortons Brier Tankard trophy. The winner will represent Canada at the world's men's championship. Things kick off on Friday, February 28th at 7 pm with the wild card game. This is a free event (first come, first served) that will feature the two highest ranked Canadian teams that didn't win their province or territory. The winner will be the last team to qualify for the 2020 Tim Hortons Brier. Then, each day until Thursday will have three draws — at 9 am, 2 pm, and 7 pm — where eight teams will compete on four sheets of ice. Saturday, February 29th is the exception, with draws at 2 pm and 7 pm. The playoffs begin on Thursday and a national champion will be crowned after the final on Sunday, March 8th at 7 pm.
Single draw tickets start at $20.20, day packs start at $59, and a full event pack is $550.


The Patch
Ground zero for all of the off-ice good times will happen in the parking lot across the street from Leon's Centre in the heated fan zone, called The Patch. Open from 11 am to 2 am every day, it will be free for anyone to enter. Leon's Centre is the caterer, and they'll have a buffet meal between draws and a concession stand throughout the day featuring sandwiches, hotdogs, pizza, nachos, and more. The area is also licensed, so beer, wine, and liquor will be available. Everything is cashless, though, so bring your cards.
The Patch's entertainment lineup will include local bands Ambush, 80s Enuff, and Turpin's Trail, along with non-local acts The Carpet Frogs, Leah Daniels (pictured), Long Range Hustle, Good Bones, and the Toronto Raptors' bucket drummers The 6ix Stix. There will be games there, too, like inflatable darts, basketball, and football, as well as AGI Cool Shots, which is a tabletop curling game where you'll be able to win cash money. Plus, some of the curlers will be at The Patch between draws for autographs and up-close-and-personal sessions where you'll get to ask them how they hurry so hard (or whatever you want).
What Else to Do
Downtown Kingston's winter celebration, Feb Fest, takes place throughout February and the first week of March. Market Square and its outdoor skating rink will be the hub for the festival, and there you'll find themed skate nights, hockey games, a figure skating showcase, curling demos, ice sculptures, and more. Elsewhere downtown during Feb Fest, expect special movie screenings, art gallery tours, food tours, restaurant specials, horse-drawn wagon rides, and outdoor games. For the full Feb Fest lineup, visit downtownkingston.ca. For skate rentals, head to City Hall or Trailhead Kingston.
Besides Feb Fest, there will be lots more happening during the 2020 Tim Hortons Brier, too. Check out the trails at Little Cataraqui Creek Conservation Area, for instance, or a historic site, or Kingston's booming arts scene. To find out what's on each day, go to www.visitkingston.ca/today.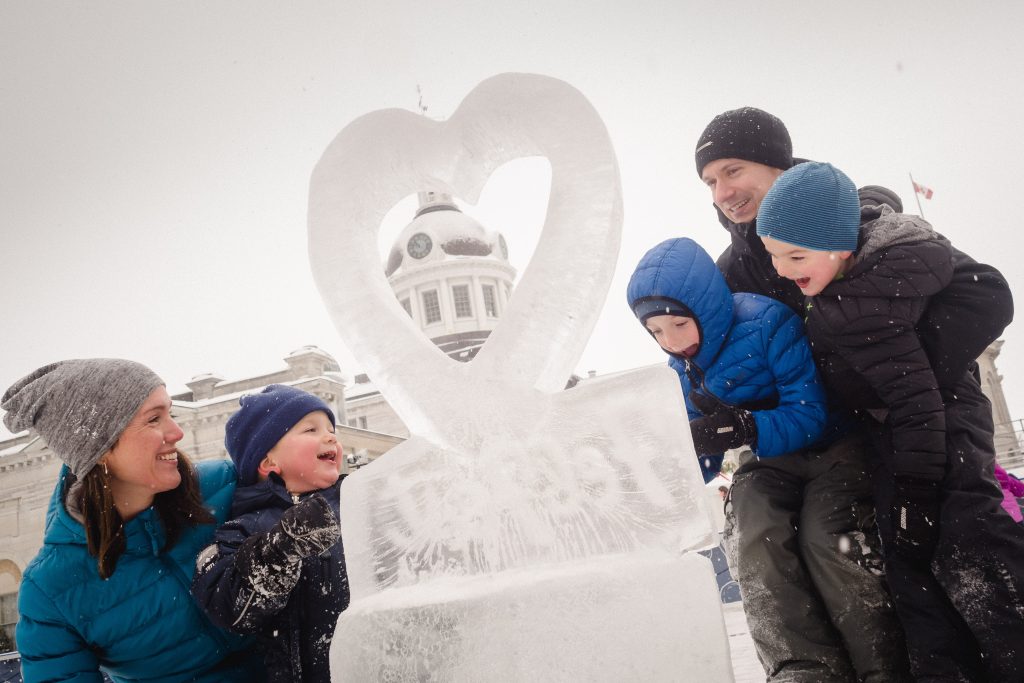 Where to Eat
With more restaurants and bars per capita than almost any city in Canada, you won't be lacking for food choices here. Break down your options with Visit Kingston's guides to the city's restaurants and eateries, pubs and nightlife, wineries, breweries, and cafés. For something a bit off the beaten path, check out my favourite best-kept secret restaurants in Kingston.
Toast to Tapas is also returning during Feb Fest this year, with a special "Curling Chews" addition during the 2020 Tim Hortons Brier. Each week, downtown restaurants will feature a themed appetizer using local ingredients offered with or without a local beverage. Pricing will be $8.95 per appetizer or $12.95 with a drink pairing.
You might be able to put your Curling Cash to use at one of these restaurants. Offered to every 2020 Tim Hortons Brier ticket holder, Curling Cash is a coupon for $10 off of purchases of $50 or more at a selection of downtown businesses (valid from February 21 – March 15). Check the coupon with your ticket for a full list of participating businesses.
Where to Stay
Take your pick from about 50 hotels, inns, and B&Bs in the Kingston area, or try one of these four options that have special discounts during the 2020 Tim Hortons Brier:
Residence Inn by Marriott Kingston's Water's Edge
7 Earl Street, Kingston
613-544-4888

Courtyard Kingston Highway 401/Division Street
103 Dalton Avenue, Kingston
613-548-7000

Holiday Inn Express & Suites Kingston
11 Benson Street, Kingston
613-546-3662
(Block code: THB)
Ramada by Wyndham Kingston Hotel & Conference Centre
33 Benson Street, Kingston
613-546-3661
Block code: 022720202
Getting Around
Leon's Centre is located downtown, so you'll be within walking distance of Feb Fest activities, restaurants, bars, hotels, and other attractions. Kingston Transit provides frequent and reliable service to downtown Kingston – with the Leon's Centre and the Brier Patch just a short walk from the downtown transfer point. From Feb. 28 to March 8, all ticket holders and volunteers can ride public transit for free – simply show your ticket or volunteer accreditation when boarding. Kingston Transit will offer extended service on Feb. 29, March 5, 6 and 7 – with the last bus leaving the downtown transfer point at 2:15 a.m.
Driving to Kingston? Free parking is available at designated Park & Ride locations, with the Montreal St. and Kingston Gospel Temple lots conveniently located just off of Highway 401.
Staying in Kingston? Hotels located outside of the downtown will have maps and schedules to help you plan your trip (or use your preferred trip planning app, like Moovit, TransitPlanner or Google Maps).
For parking options, including surface lots, park-and-ride lots, and accessible parking: www.cityofkingston.ca/residents/parking.
For road closures: www.cityofkingston.ca/residents/roads-and-traffic/road-closures.
Visit www.curling.ca/2020brier for tickets, the full schedule, and more. Good curling!
YOU MIGHT ALSO LIKE THESE